Holding elections during a worldwide pandemic with a virulent disease means those who can vote at home, should do so using Vote By Mail. Help by doing your part: vote early, vote from home, mail or deliver it in. Don't wait.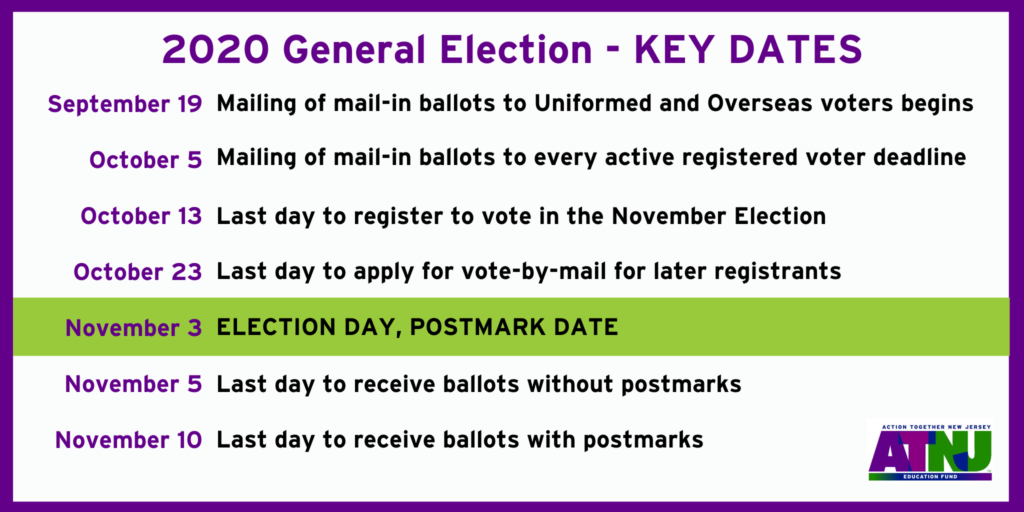 Three voting bills were passed into law!
"VBM Education/Postmark Bill" A4320/S2633: eliminates the requirement of a postmark if received by the Board of Elections within 48 hours of poll closed to reduce a portion of ballots rejected due to BAP (Ballots received After Polls closed).
Ballot Drop Box Act A4475/S2580: at least doubles the number of secure ballot drop boxes for voters to bypass USPS delivery delays to reduce a portion of ballots rejected due to BAP (Ballots received After Polls closed).
Ballot Cure Act A4276/S2598: gives voters the ability to provide a cure to their mail-in ballot.
What can voters expect?
WHAT will I get? ALL active registered voters will automatically receive a vote-by-mail/mail-in ballot in their mailbox without a need to apply. See what your Official Mail-in Ballot envelope may look like here. Keep an eye out for it! Our website here, VoteByMailNJ.org, covers all you need to know about voting early from home.
WHEN will I receive it? Uniformed and Overseas voters – starting September 19th. Voters living in New Jersey – NO LATER than October 5th.
WHEN is the deadline for my vote to count? If your ballot:

bears a postmark, it has to be received by the county Board of Elections by November 10th.
does not bear a postmark or is mis-marked by USPS, it has to be received by the county Board of Elections by November 5th.

WHERE can I mail my vote-by-mail ballot? "Vote-by-mail" is a misnomer. There are many ways for you to turn in your ballot:

You can drop it in the mail using your mailbox or any USPS mailbox. All mail-in ballots have prepaid postage so no stamps are needed.
You can drop it off at an SECURE ballot drop box. These have video cameras 24 hours a day and are weather- and tamper-proof. They are picked up directly by your county Board of Elections staffers.
You can deliver it yourself at several staffed locations: your local polling place on Election Day or any time prior to Election Day to your county Board of Elections. You will need to present an ID proving that you are the voter and that's your ballot.

You can designate someone – the "Bearer" – to take your ballot and deliver it for you at your county Board of Elections. Any time anyone takes your ballot from you, including your spouse or children or relative, they must fill out the "Bearer" portion of your mail-in ballot. This is a security feature that assures your ballot was taken from you with your consent. Any ballots that are delivered by a Bearer without the Bearer portion filled out completely will be rejected and not counted. To be clear: a Bearer may only deliver it at your County Board of Elections and not at a polling place on Election Day.
Can I vote in person?
You can vote in-person on Election Day, November 3rd, by using a Provisional Ballot in private. A Provisional Ballot is a paper ballot that is canvassed after all mail-in ballots are canvassed and counted. If after canvassing your Provisional Ballot and the system shows that you have NOT voted already, your Provisional Ballot will be counted, regardless of how close or uncontested the race is. ADA-Compliant voting machines will be made available only to voters with disabilities.
Per Executive Order 177, counties must keep a minimum of 50% of regular polling places open for Election Day.
Elementary and secondary schools will be closed for in-person schooling on Election Day, November 3rd, and County Boards of Elections may use these facilities as polling stations.
If a county cannot reach 50% minimum, the Board of Elections can use schools and large facilities to serve as large voting centers, which may have more voting districts in one polling place.
Is it safe to vote in person?
Per Governor Murphy's Executive Order 177, all polling places must meet CDC guidelines including:
Maintaining a six-feet distance between all voters and poll workers.
Having signage to show distancing requirements
Requiring and making available at no charge facial coverings, gloves, hand sanitizing, and other hygiene and sanitizing materials
Allowing frequent hygiene breaks to poll workers
Requiring frequent sanitizing of high-frequency use areas
Denying entry to poll challengers and poll workers who refuse to wear facial coverings when there is no medical exemptions.
All voters voting in person shall be given a Provisional Ballot to vote, except voters with disabilities who may use an ADA-compliant voting machine.
Under the order, no voters and their accompanying person(s) will be denied the right to vote if they do not have facial coverings or refuse to wear facial coverings.
Other questions about your ballot:
If you haven't received your mail-in ballot by October 9th, call your County Clerk.
If your ballot is ripped, torn, or otherwise damaged during mailing, call your County Clerk and ask for a replacement ballot.
If you do not want to use your vote-by-mail or mail-in ballot, you can vote in person at your polling station using a Provisional Ballot.
Are you registered to vote? Don't remember what your signature on file looks like? Worried?
You can also print a paper form that has pre-paid postage. The following links take you directly to your prepaid postage county forms in all available languages with a sample form to show you how to register to vote, how to update your signature, and to sign up for Vote By Mail. The deadline to register is October 13th.